August 05, 2005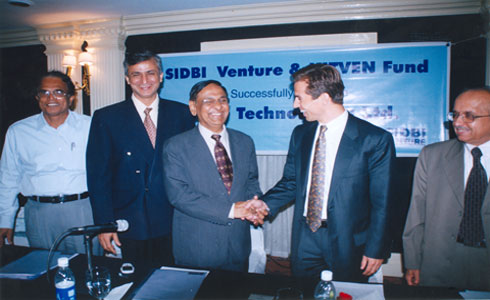 SIDBI Venture Capital Ltd (SVCL), today announced acquisition of ECAD Technologies Ltd (ECAD), an early stage IT company funded by SVCL together with Karnataka IT Venture Capital Fund (KITVEN) by an overseas Company. Pursuant to this acquisition both NFSIT and KITVEN have successfully exited from ECAD. After nurturing ECAD for a period of four years, SIDBI Venture and KITVEN ( who had invested Rs.2 crore and Rs.1 crore respectively) have fully divested from their investment for a total consideration of Rs.7.50 crore i.e with a profit of 150% over the original investment.
ECAD was promoted by Shri S.L.N. Murthy, an ex-BEL executive and others in September 1997. It received venture capital funding from SIDBI Venture and KITVEN in March 2001. It is engaged mainly in design, simulation and testing of high end Printed Circuit Board (PCB) used in critical applications. The Company has built a wide and diversified clientele comprising of reputed MNCs, private sector companies and PSUs. Its customer list includes Texas Instruments, Sanmina SCI Corp, National Semi conductors, BEL, HAL, ISRO, Defence Labs etc. The Company is also engaged in marketing and support of special CAE tools and solutions and represents internationally renowned companies. The company has been consistently making profit for the past three years.
Austria Technologie & Systemtechnik AG (AT&S), an Austrian company, Europe's largest supplier of printed circuit boards with turnover of about euro 332 million has acquired controlling interest in ECAD.
Announcing SVCL's exit from ECAD, Shri.N.Balasubramanian, Chairman, SVCL said, " We are delighted to announce our exit from ECAD. The most difficult part of the VC process is the exit and to have accomplished it smoothly is the ideal end result. The exit of our investment from ECAD vindicates our faith in the SME segment that it offers good investment and profit opportunities to VCs".
"SMEs contribute immensely in generating employment opportunities and also contribute by way of generating revenues, including exports, to the national exchequer. We are committed to our goal of supporting deserving projects / ventures in the SME especially for innovative businesses through Venture Capital funding", Shri Balasubramanian added.
Shri.S.L.N.Murthy, Founder and Director of ECAD stated, "VC funding for early stage SME besides being difficult, requires deep understanding of the special features of the SME units. SVCL assisted in strengthening our systems and broad basing our Board, linkages with Overseas VC funds and gave us the visibility. The support provided by SVCL is validated by the rapid growth achieved by us".
Shri.A.K.Kapur, CEO, SVCL said, " It gives us great satisfaction to announce that we have funded and nurtured a small enterprise and barely under four years, the VCs have been able to make a profitable exit. Our exit establishes the fact that VCs too can invest in early stage projects in the SME segment and exit with good returns on their investments".
SIDBI Venture invested in the company out of National Venture Fund for Software and IT Industry (NFSIT) which has been set up by Small Industries Development Bank of India (SIDBI) in association with Ministry of Communications and Information Technology (MCIT), Govt. of India and IDBI. It is a close ended 10 year fund with an initial corpus of Rs.100 crore. SIDBI Venture, has committed investments aggregating about Rs.75 crore out of the fund in 30 companies. Investments made are in BPO/ITES, Software Products, Software Services and Internet related businesses. The investible corpus of the fund is expected to be fully committed during the current financial year.
In a span of less than five years since inception, SVCL has funded over 28 projects spread across the country largely in the Product, Services, IT Enabled services, Internet and BPO - all in the SME segment. NFSIT along with the State/regional funds supported by SIDBI, has become the major source of VC funding for the SME segment. This structure also enables rapidly growing SMEs to avail subsequent round of funding from bigger VC funds.
SIDBI Venture Capital Ltd. in October 2004 also launched SME GROWTH FUND, a wide focus new venture capital fund with a large corpus of Rs. 500 crore, dedicated to the SME sector. The 8-year life Fund is being established with an objective to meet the long-term risk capital requirement of innovative and technology oriented units in this sector. SVCL has already committed investment in three companies aggregating Rs.26 crore. The corpus of SME Growth Fund has been contributed by SIDBI and other leading commercial banks such as Punjab National Bank, State Bank of India, Bank of Baroda, Bank of India, Central Bank of India, Union Bank of India, Oriental Bank of Commerce and Corporation Bank. SME GROWTH FUND distinguishes itself as the largest domestic VC fund dedicated to the SME.
Karnataka Information Technology Venture Capital Fund (KITVEN Fund) is an Information Technology specific Rs.15 crore Fund registered with Securities & Exchange Board of India (SEBI). The Fund has been subscribed by SIDBI, Karnataka State Industrial Investment & Development Corporation Limited (KSIIDC) & Karnataka State Financial Corporation (KSFC) in 1999. The Fund has invested in 13 companies with investment of Rs.12.08 crore, most of them at their start up stage. Some of the assisted companies have grown in size and KITVEN Fund exited from 6 companies with 4 very good exits including ECAD and recovered partial amounts in the balance two. It has returned 38% of the money subscribed by the three institutions. The cumulative turnover of the assisted companies is about 170 crore, though most of them were assisted at their infant stage. Some of these companies were able to source additional investment from bigger venture capitalists / strategic investors. As KITVEN Fund is early stage investor, lot of support services are extended to the companies mainly in the area of financial strategies, business strategies, internal controls, management information system etc.
SIDBI, as the apex Financial Institution for the Small Scale Sector, has been playing a very active role in the evolution of Venture Capital financing in the country to support the risk capital requirements of the sector. SIDBI has been following a three tier approach in this regard. To this end, the Bank has been investing in several Venture Capital Funds for onward investments in the SME sector. These include several prominent funds such as India Leverage Fund, India Advantage Fund, India Development Fund. Recently SIDBI has partnered with Small Enterprise Assistance Fund, US and Kotak Mahindra Bank Ltd. in setting up India Growth Fund. Bank has also invested in a number of state level VC funds in collaboration with local institutions. The sanctions of the Bank relating to Venture Capital operations aggregate Rs.450.36 crore through various routes, making it one of the largest VC players in the country.